Shopping Cart
Your Cart is Empty
There was an error with PayPal
Click here to try again
Thank you for your business!
You should be receiving an order confirmation from Paypal shortly.
Exit Shopping Cart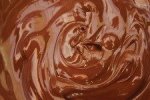 Cherry Fudge
Ingredients:
3/4 cup evaporated milk
1 cup white sugar
1 pinch salt
1 (3 ounce) package cherry flavored gelatin
1 cup butter
2 cups semisweet chocolate chips
1 teaspoon vanilla extract
3/4 cup maraschino cherries, halved
Preparation:
Butter an 8x8 inch dish. In a medium saucepan on an
oven
top set to medium heat, combine milk, sugar and salt. Bring to a boil and stir in gelatin. Boil 4 minutes. Remove from heat and stir in butter, chocolate chips, vanilla and cherries. Pour into prepared pan. Chill 2 hours before serving.
Read Full Post »

Brownie Cookies
Ingredients:

1 package fudge brownie mix    
1/4 cup  water 
1 egg    
1/2 cup  chopped nuts
Preparation:
Heat
oven
to 375º, lightly grease cookie sheet. Mix brownie mix, water and egg in large bowl with spoon. Stir in nuts (dough will be stiff). Drop dough by rounded teaspoonfuls onto cookie sheet. Bake 6 to 8 minutes or until set. Cool slightly; remove from cookie sheet to wire rack.
Read Full Post »

Chocolate Pretzels
Ingredients
:
2 (10 ounce) packages pretzels
1 tablespoon heavy whipping cream
2 cups semisweet chocolate chips
Preparation:
Melt chocolate and cream in a double boiler over low heat, stirring constantly. Dip pretzels one at a time and quickly to coat while mixture is still very warm. Place pretzels on wax paper to cool.

Read Full Post »
Ingredients:

1/2  pound  vanilla-flavored candy coating 

3 cups Golden Grahams® cereal    

1/2 cup salted peanuts    

1/2 cup miniature marshmallows
Preparation:

Chop candy coating into small pieces; place in heavy 10-inch skillet. Cover and heat over low heat about 5 minutes or until coating is soft; remove from heat. Stir until smooth and creamy.
Stir in cereal until well coated. Stir in peanuts and marshmallows. Drop mixture by rounded tablespoonfuls onto waxed paper, or spread mixture evenly on waxed paper or aluminum foil. Let stand 1 to 2 hours or until completely set.

Read Full Post »
/