Shopping Cart
Your Cart is Empty
There was an error with PayPal
Click here to try again
Thank you for your business!
You should be receiving an order confirmation from Paypal shortly.
Exit Shopping Cart

Quick Jerky
Ingredients:
6 lbs. Lean meat

2 qt Water
2 c Salt

1 c Vinegar
2 tbs. Pepper
Liquid Smoke
A-1 Sauce

Preparation:

Cut meat as thin as possible. Remove all fat. Boil meat in mixture of the first four ingredients for approximately 6 minutes. Roll moisture from the meat. Put on a cookie sheet in middle of the oven for 1 1/2 to 2 hours at 200 degrees F. Leave oven door cracked to let moisture out. When you remove from the oven coat with Liquid Smoke and A-1 Sauce. Store in airtight jar.

Read Full Post »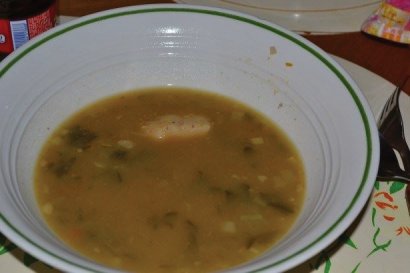 Deer Heart N
Kidney Stew
Ingredients:

1 heart N kidneys from deer
1 small onion, minced
1 15oz. can mushroom soup
1 c wine, red
4 c water
1 tbs butter or margarine
salt & pepper to taste
1helping noodles, rice, saffron rice
Preparation:
Boil heart and kidneys in lightly salted water keep covered until tender. Cool and slice into bite-sized pieces. Sauté onion in butter until transparent. Add remaining ingredients, including 1 cup of the water meat is boiled in (broth). Allow to simmer for about 15 minutes more. Serve over noodles or rice. Wild rice is also excellent with this.

Read Full Post »

Ingredients
:
1 round steak, 1.5-2 in.
6 tbs flour
1 can mushroom soup
1 salt & pepper to taste
2 tbs frying fat
Preparation:

If you kill a big buck and know he will not be as tender as a spike buck, cut a round steak about 2 inches thick, drown in flour, let stand for an hour and then reflour the wet spots. Sear on both sides in a hot,lightly-greased skillet or black iron pot. Now pour the can of soup directly onto the center of the steak, then add enough hot water to cover the meat. Cover the pot or skillet, cook in a moderate (375) oven for about 2 hours or until tender. Serves 1

Read Full Post »
Ingredients:
1 ea. deer tongue
1 tbs salt
4 ea. peppers, whole
3 ea. bay leaves
2 ea. cloves, whole
Preparation:
Use ingredients above for one deer tongue, and add equal amounts for each additional tongue you are cooking. Wash the tongue(s) well and cover with water in a pot. Add spices and salt and simmer covered until tender. Remove from the water and peel off the outer covering, which is a modified 'skin' of sensory cells.  Serve hot or cold. You may spice it up to suit yourself during cooking.
Read Full Post »
/