Shopping Cart
Your Cart is Empty
There was an error with PayPal
Click here to try again
Thank you for your business!
You should be receiving an order confirmation from Paypal shortly.
Exit Shopping Cart
| | |
| --- | --- |
| Posted on November 17, 2021 at 12:55 AM | |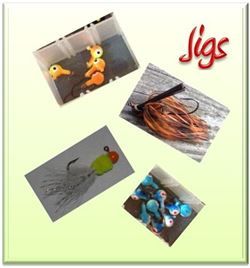 I have over the years learned how to fish jigs. Jigs are something not everyone fishes right turning them into a huge disappointment that never gets tried again. Jigs are an awesome bait that can be used for many different species and times of the year. There are different types Jigs that fall into the jig fishing category. We will cover a few different styles of jig fishing Bass jigs, round jigs (a go to Walleye jig), and Ice Fishng jigs.
Bass
A https://ebay.us/HyDu4h" target="_blank">Bass jig is usually composed of a lead jig head, silicone skirt, and tipped with pork or soft plastic. A lot of people will fish these to fast and often times in the wrong location. The best way I can explain how to fish these baits is to imagine that you are doing your favorite past time wanting it to last. You want to make sure it will last so you methodically do it until you are complete making sure that you did not miss a thing. Using a bass jig should be fished the same way, cover the area slowly, imagine it is another animal looking for something to eat on the bottom of the lake, river, or stream.
When it is spring use jigs around brush, lily pads that are coming up, docks and in rocks. Always remember to fish shallow water, it warms up faster then the rest of the lake. The warm water equals more active fish that are ready to eat. Try using a 1/2 ounce jig tipped with a pork trailer. As it warms and the fish become more active some times you'll find that using a jig instead of a crankbait will produce more fish. When a larger jig is dropped in front of a unexpecting bass they'll have a hard time turning down such an "easy" meal, Bass are opportunistic. Fish them in old creek channels, beds, grass and in lily pads.
When the heat of the summer starts to wain and the leaves start to change the Bass are getting ready for winter.
The water is cooling off the fish are slowing down, their metabolism is shifting into winter mode where the fish do not need to eat as much. Use jigs around fallen trees, dying lilies, stumps and any docks that are left in the water.
When Jack frost is nipping at your toes the bass tend to school up and go deeper. The deep water stays warmer which makes them feel more comfortable. If you find one bass you can usually count on there being another. Bass are opportunistic and if a lure falls in front of there face they'll take it. Remember, in the winter they will not expend a lot of their energy to eat, everything has slowed down including their system.
They do not move far from where they and usually will not chase anything like in the summer months because it use to much energy. When the Bass jig has been mastered it will produce fish on a regular basis if you remember the most important lesson of a jig fisherman, SLOW DOWN. This will keep the jig in front of the fish longer resulting in a fish that cannot refuse an easy meal.
Categories: Fishing
/